Take a B-line train from Vesterport towards Farum. It will take 5 stops to the destination – Ryparken station. From Ryparken station the tour explores Bolsjefabrikken and other locations in the Nørrebro.
Are you ready for 8 kilometres and around 2,5 hours tour?!
You can follow the route in your own pace. This gives you a great chance to enjoy the individual spots you meet along the way, maybe you feel like grabbing a coffee while passing by a cozy cafe – Or maybe your hunger points you towards the nearest burger joint. Don't worry, there's no rush.

The tour route map

Bolsjefabrikken
Here you will see Copenhagens currently largest open-air graffiti-area with many styles and colours It is a non-commercial area, housing a lot of non-profits and cultural association behind the graffiti walls in Ragnhildgade 1.
The place also have a music venue named Bolsjebarikken, an association arranged by local activists, setting up activities on a voluntary basis. Bolsjebabrikken values are a community, equality, freedom for creativity.
The goal is an exploration and testing of organisation and community. Bolsjefabrikken gives space for alternative culture, where people can express differences, gain new competencies and get involved in a creative active community. Bolsjefabrikken is arranging Onsdagsklubben, Dubfabrikken, Reggae klub Tung Torsdag, BolsjeYoga, Videoklubben and other events.
Address: Ragnhildgade 1, Cph N.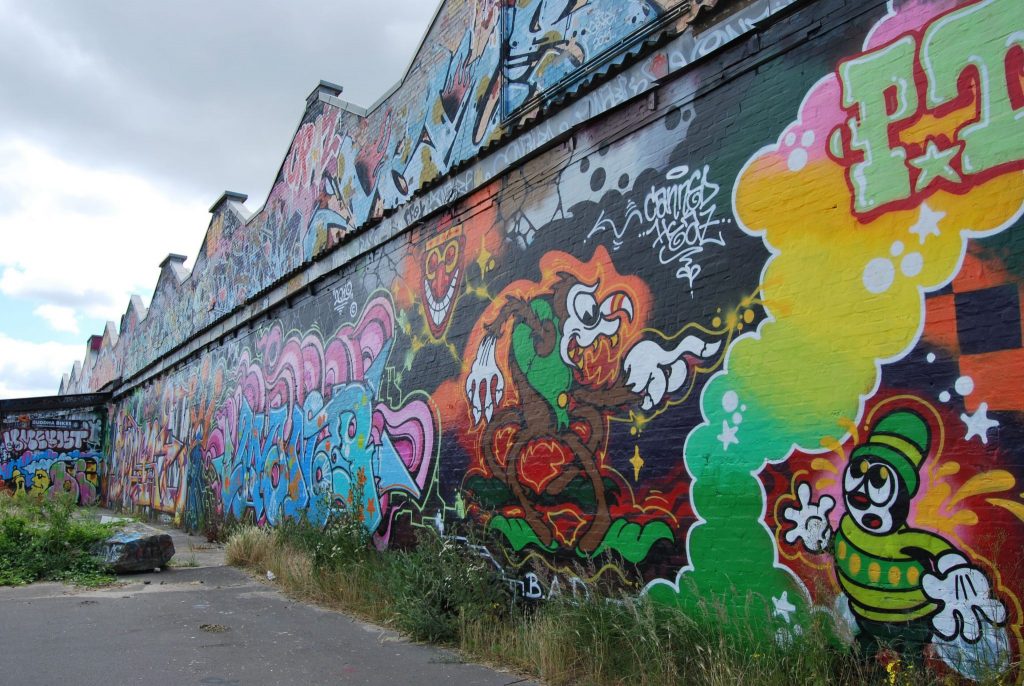 BaNanna Park and Nannasgade
BaNanna Park and Nannasgade are connected with the square. This urban space is decorated with a combination of street art, photos, paintings and other. Here you can see childhood idols.
The climbing gate is decorated by Stine Hvid, the mural "Yggdrasil" on the right side is painted by Christian Hansen.The rest colours on the park by street art collective Copenhagen Cruise. This park was preserved and protected from investors building expansion in this area.
Address: Nannasgade 4, 2200 Cph N.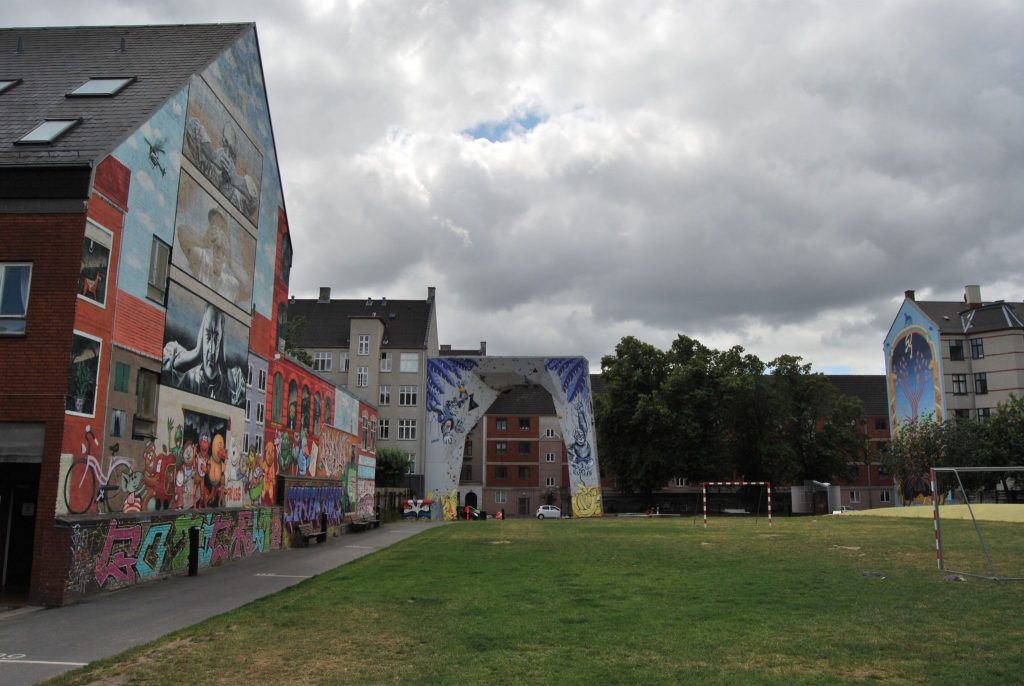 Odinsgade
Odinsgade has "The Great Escape" mural by Simon Hjermind Jensen and Danish designer Anne Sofie Madsen. Since the mural is standing in front kinds playground, therefore was chosen motive of a girl flying away with the balloons over the rooftops.
This mural was created by the request of Mimersgade area renewal. The other mural at the same playground is "Vessel", created by Simon Hjermind Jensen, Anders Schmidt, Theis Wendt and Silas Inone.
Copenhagen municipality invited artists to create this mural in 2012. According to Simon Hjermind Jensen, both murals can be helpful to create a sense of belonging.
Address: Odinsgade 4, Cph N.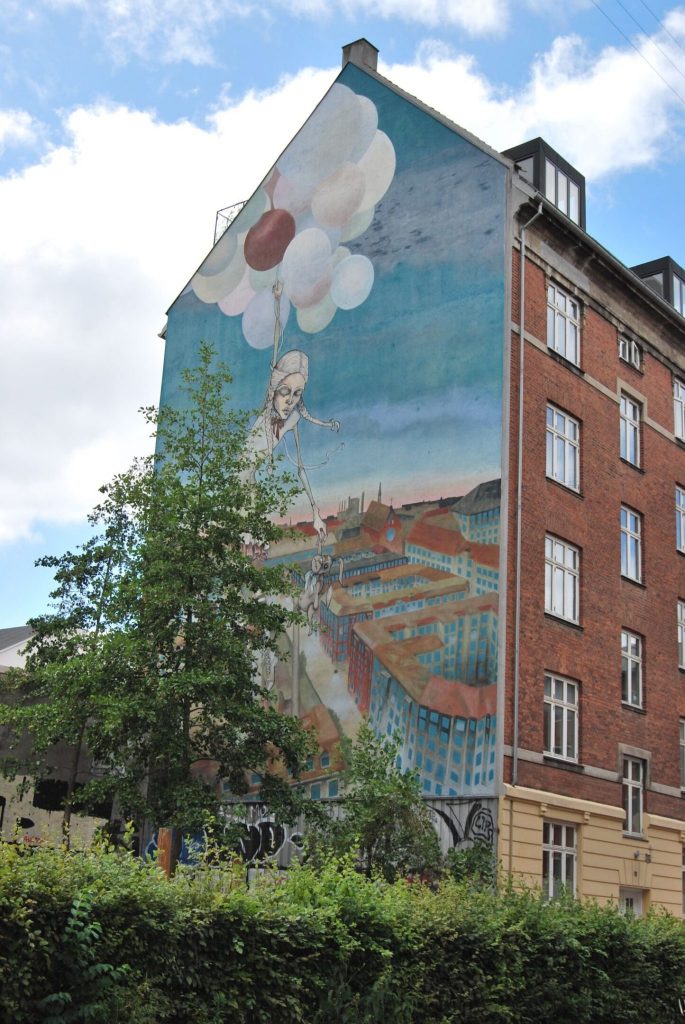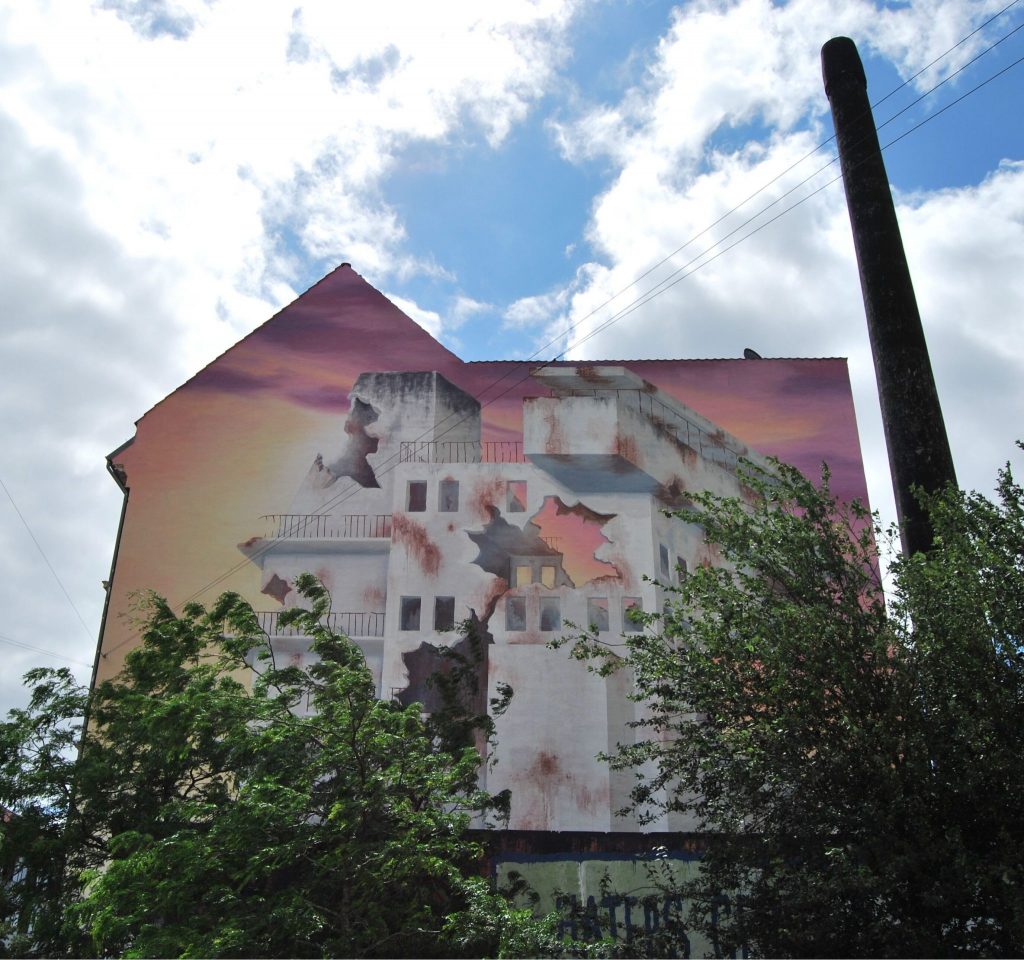 Superkilen park
Red square has a mural with Mountain Dew commercial created by Soten, Tiws and Reks, at 2015.
Address: Superkilen, Cph N.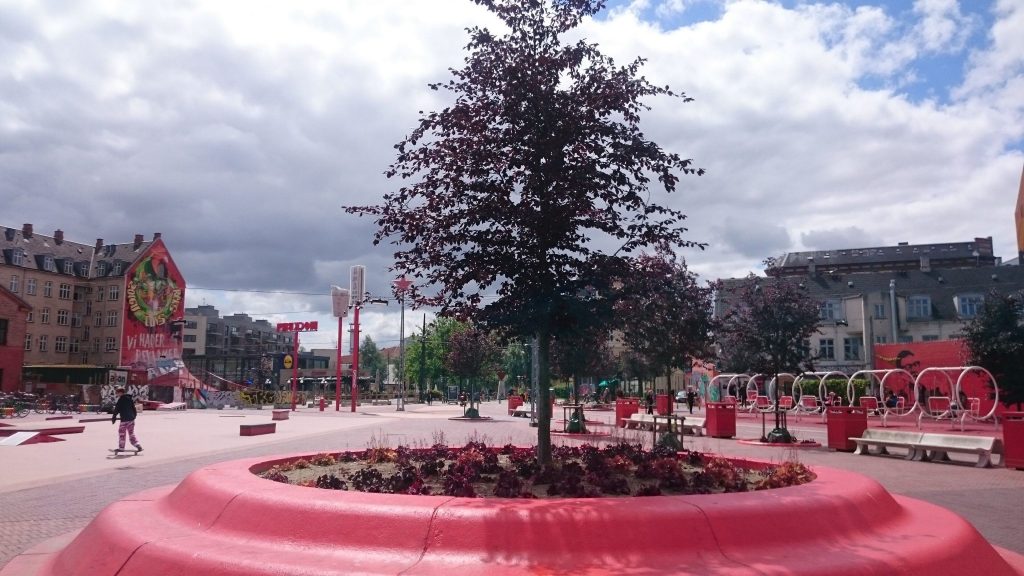 Cafe Friheden (Freedom)
Is it coincidence or danish irony? Cafe Friheden does not have an address. It is a newly opened cafe/restaurant between Red square and the skate park towards Hillerødgade.
Address: None, Cph N.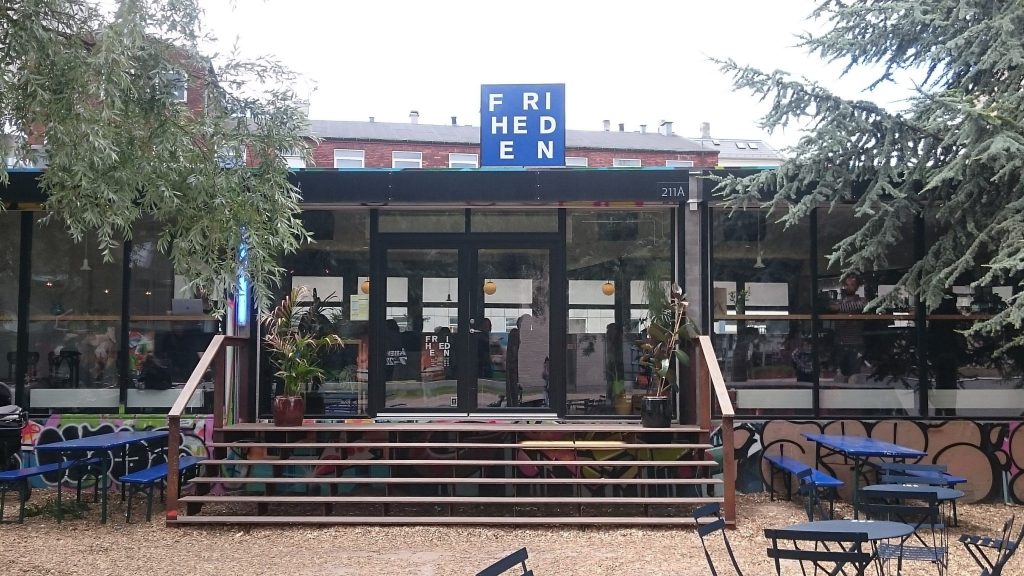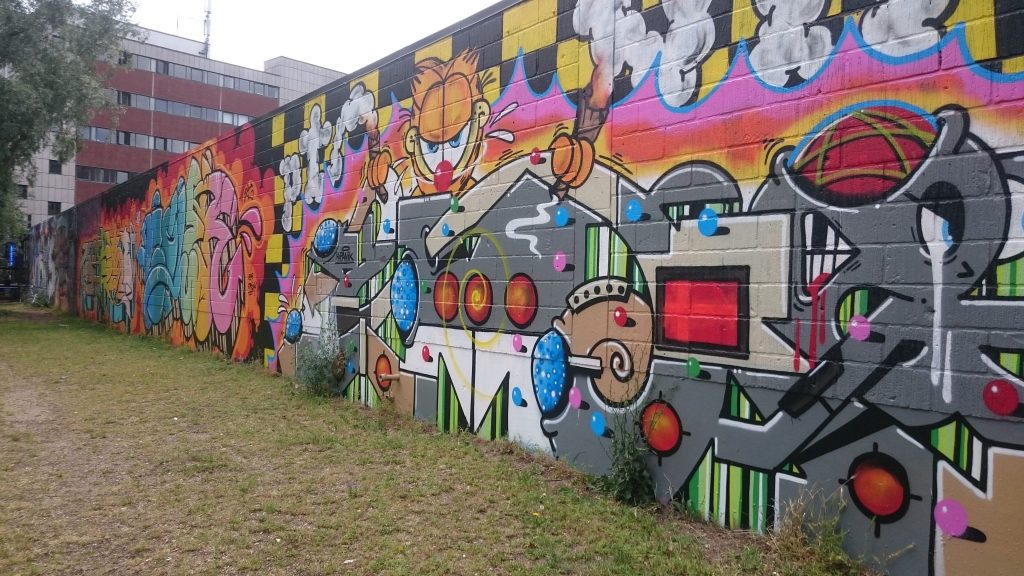 GR170

This large-scale mural was created by the Barcelona-based street artists GR170, who visited Copenhagen at 2012. It was made for Galore Urban – Art festival.
Address: Søllerødgade 48, Cph N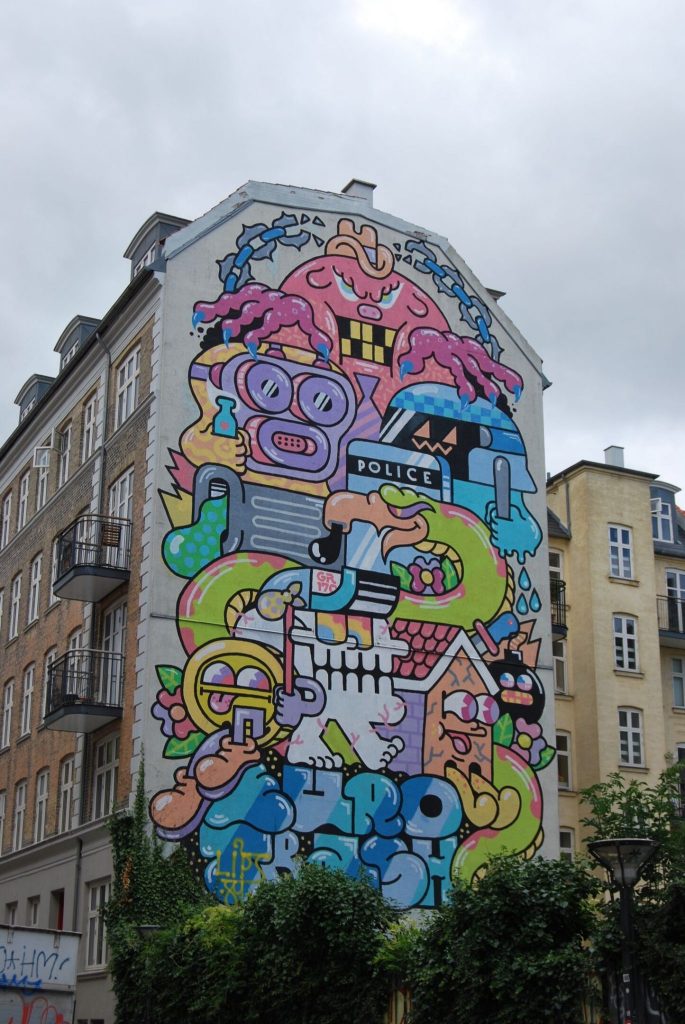 Ungdomshuset Jagtvej 69
The Youth Culture House at Jagtvej 69 in Copenhagen was active from 1982. The centre had many cultural and political activities.
It was a residence place for a group of young people connected with the left-wing and the autonomous environment. Copenhagen municipality sold the house in 2000, which was earlier given to the youth group in 1982 – People refused to leave the house.
On March 1 2007 everybody was thrown to the street by the police fueling riots and loud demonstrations in Copenhagen. The building at Jagtvej 69 was demolished on healf of the religous group owning the property. The plot, which currently is vacant, is by the former users of Ungdomshuset called "Ground 69".
Significant names such as Shephard Fairey have been doing murals on the plot, but the ground hold rich and important history lessions.
Address: Jagtvej 69, Cph N.