You can follow the route yourself in your own pace. This gives you a great chance to enjoy the individual spots you meet along the way, maybe you feel like grabbing a coffee while passing by a cozy cafe – Or maybe your hunger points you towards the nearest burger joint. 
Don't worry, there's no rush.
This walk is promising a pleasant time by wondering around Istedgade and surrounding streets in Vesterbro.  
Just 4 kilometres ahead and 1 hour and 45min to go! Easy!
The tour route map
Søren solkærs Surface project
Before beginning, we'd like to introduce little bit about the Surface project, one of the projects behind the artworks on the tour.
Since 2012, Danish photographer Søren Solkærs traveled and recorded known street artists in Berlin, London, Paris, New York, Los Angeles, Miami, Las Vegas, Stavanger, Athens, Sydney, Melbourne and Copenhagen.
Søren Solkærs' Surface' world tour ended in Copenhagen in 2015. He arranged a large-scale exhibition in Øksehallen and presented 112 portraits of the most significant street artists. Also, he invited six international and highly respected artist to create huge murals in Vesterbro, around Øksehallen.
The artist are Conor Harrington (UK), ROA (Belgium), Borondo (Spain), DALeast (China), Maya Hayuk (US) and HuskMitNavn (DK).
Some of them will be visited during this tour.
Husk Mit Navn
Mural of a father holding a son symbolises the love and protection. Father shields the child from a big and unpleasant city. Artist speaks to Copenhagen's inner retro-childhood soul.
The
mural is in front of the smallest Danish Central hotel.
Husk Mit Navn is a local artist and cartoonist, well known in Denmark. His art decorates Rigshospital, schools, city streets and even Copenhagen airport.
Address: Tullinsgade 3, Kbh V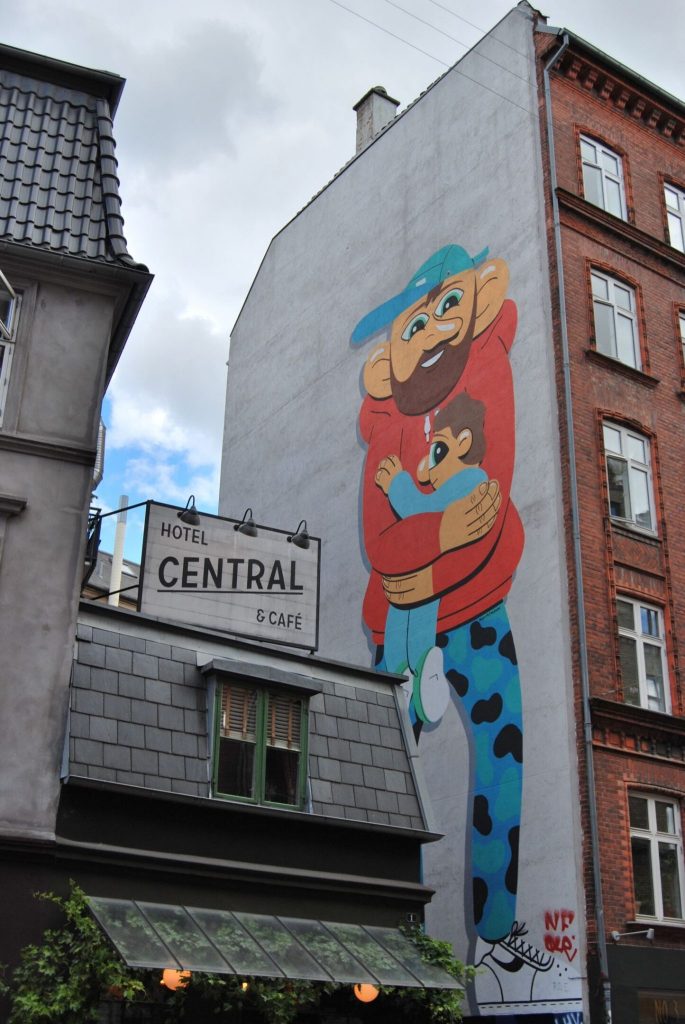 Conor Harrington
Untitled mural by Conor Harrington, created at 2015. Conor is an Irish painter living and working in London.
Conor
Harrington's works draw on both classic masters and the graffiti. His style is
born by a deep interest in historical periods, and he is able to almost photo
realistically carry it into the present time.
Address:
Tullinsgade 7, Kbh V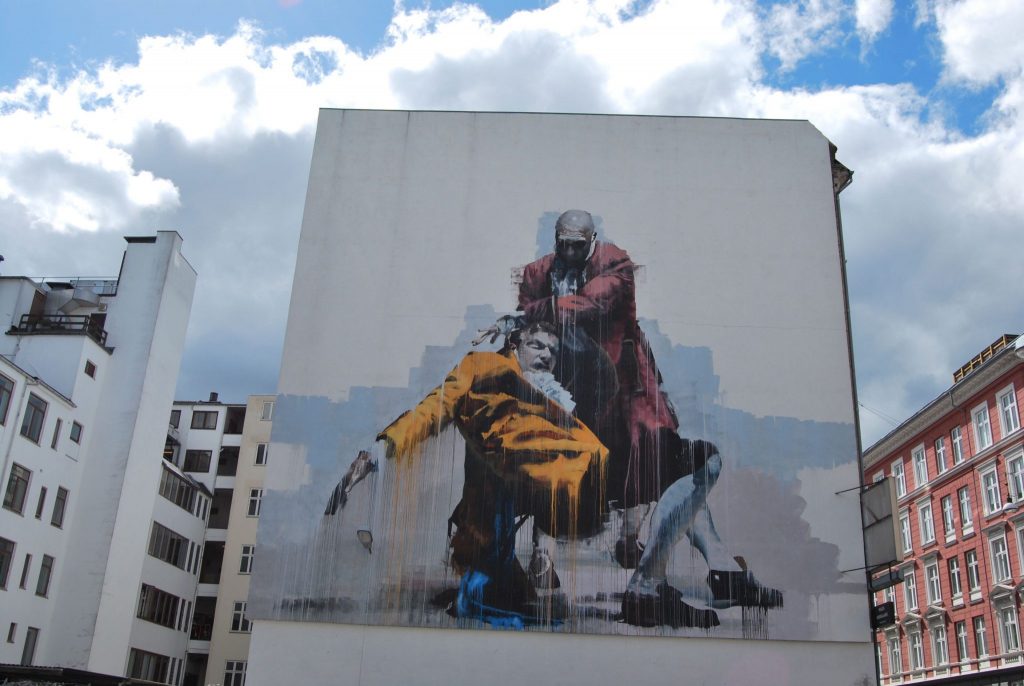 Westend Gallery
The interior of the gateway at Vesterbrogade 76 has been featuring a changing street art work. Since 2010, a street art project "Wildat Westend" continues surprise locals and visitors passing by Westend. The art is been replaced about once a month at Westend and everybody can create here.
Address:
Vesterbrogade 76, Kbh V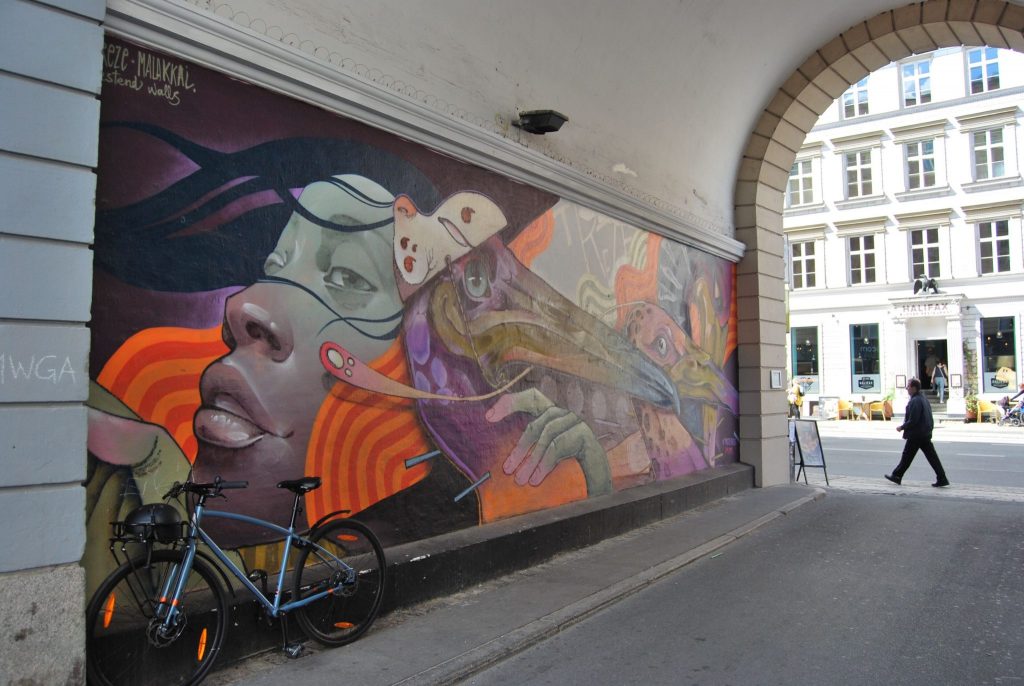 SPYO
JERES
SYGSTEM  / FUCK ALTING / STOP JYDEN / MANUAL FOR HIPSTERS / YOU ARE ONLY
FREE WITHIN THE SYSTEM / SAMME RUTINE HVER DAG / STØJBERG LOVES ANAL / RIGE
SVIN / EGOTRIP / NOTHING U DO MATTERS / DU VARER 1 ØJEBLIK / MENS DU VAR PÅ
TINDER
The
above sentences are a selection of the hundreds of illegal works that the
graffiti artist SPYO implemented on the murals, walls and roof edges of
Copenhagen in the past few years.
Address:
Sundevedsgade, Kbh V.
South America meets Copenhagen
This artwork was created by Entes (PE), Saile(
CL) , Soten (DK) , Hes (CL) , Tiws (DK) , Fisek (CL) , Knorke (BO).This
collaboration was initiated for world-cultural Images Festival in Copenhagen,
by the graffiti agency Graffland at 2017.
Five
South American graffiti artists were invited to decorate a 75-meter long frieze
at Queen Louise's Bridge along with local artists.
During
this event, Graffland organized the work in Sundevedgade, where the guests
could create a permanent mural on the building of the cooperative association
in Vesterbro.
Address: Sundevedsgade 19, Kbh V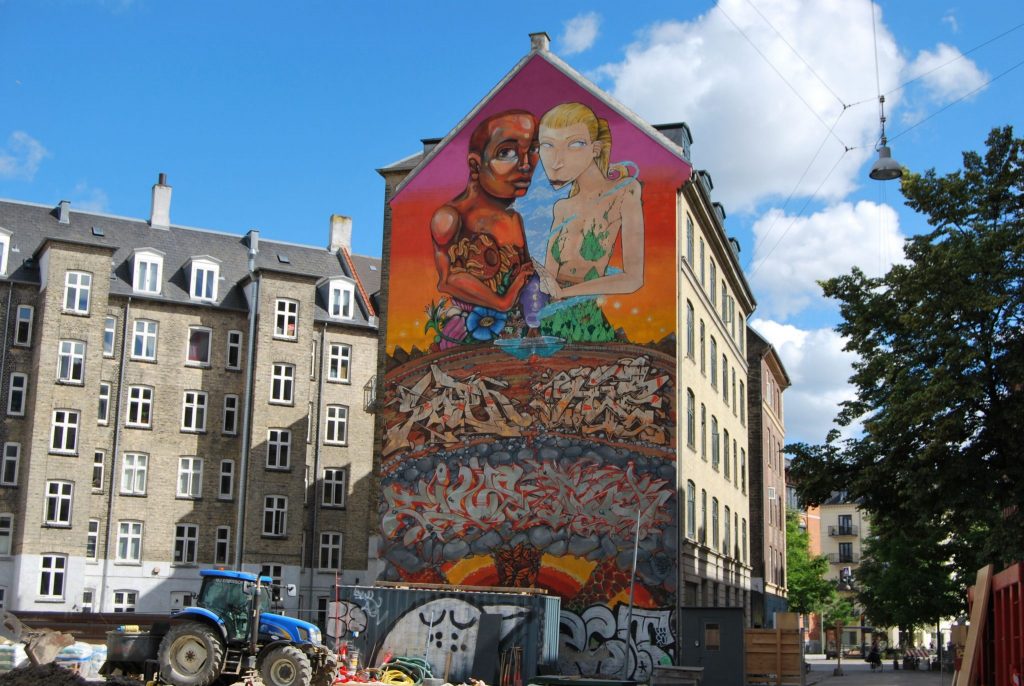 Welin and Søren Arildsen
It is
a collaborative work of two Danish artists Andreas Welin living in Melbourne
and Søren Arildsen living in Copenhagen.
Address: Amerikavej 20, Kbh V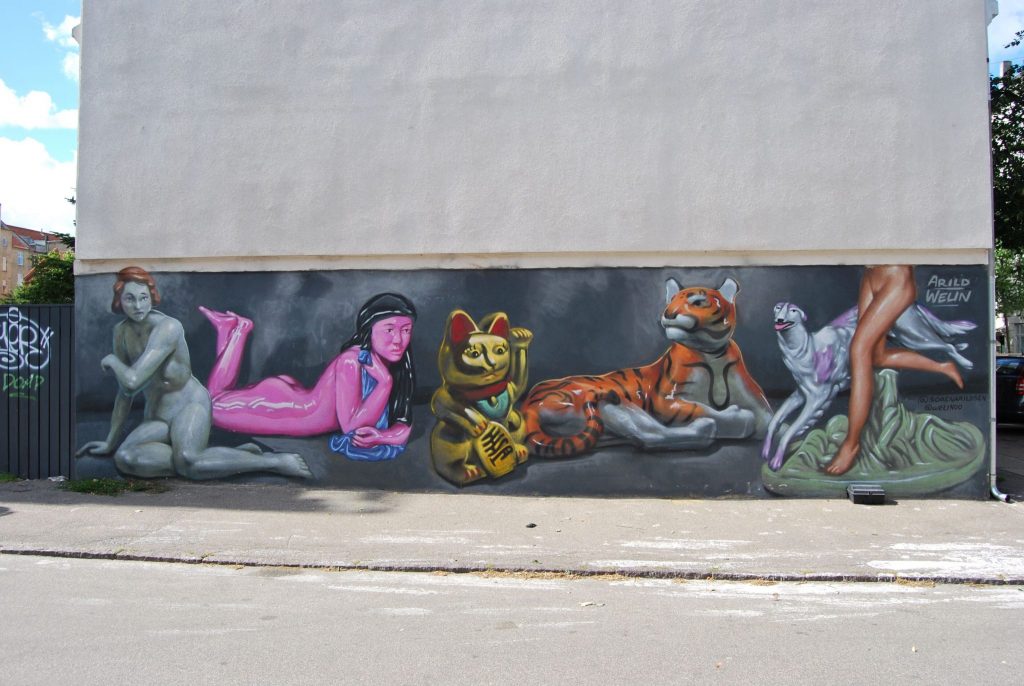 DALeast – SPYO
Chinese artist DALeast had landed one of his characteristic bird creatures in Vesterbro.
DALeast
works can be seen all over the world. The sketchy and photorealistic motifs of
metallic figures at the same time can appear as a rotten and rooted in
pedestrian's eyes.
The
letters are written by SPYO.
Address: Oehlenschlægersgade 72, Kbh V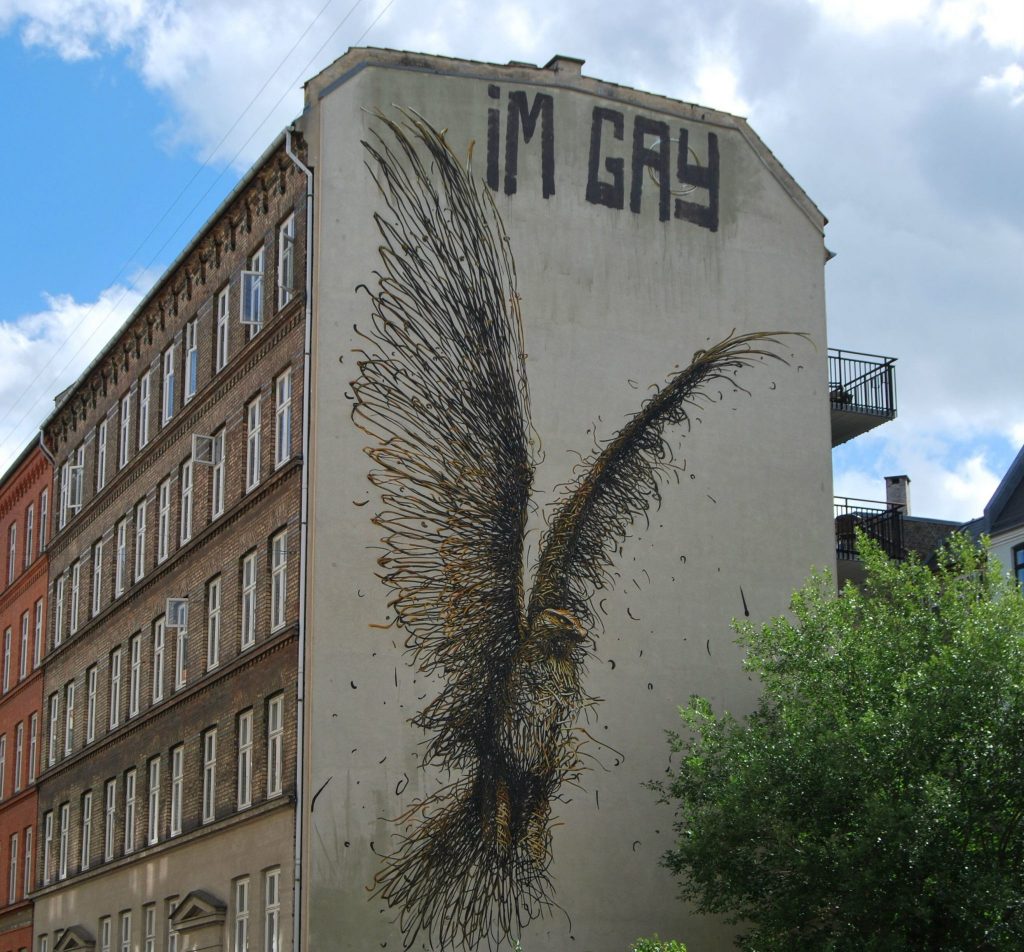 Jasmin Medina
HVesterbro Central hotel corner is hiding a street artwork and graffiti created by Jasmin Medina. This street art and graffiti piece had several changes through time. 
Address: Saxogade 92, 1662 Kbh V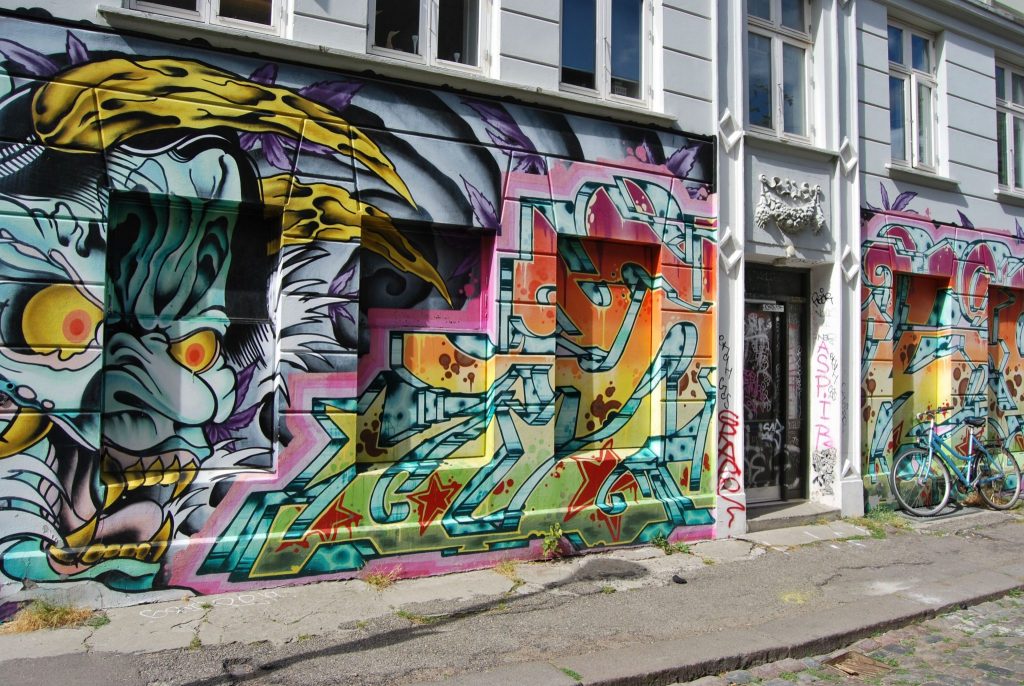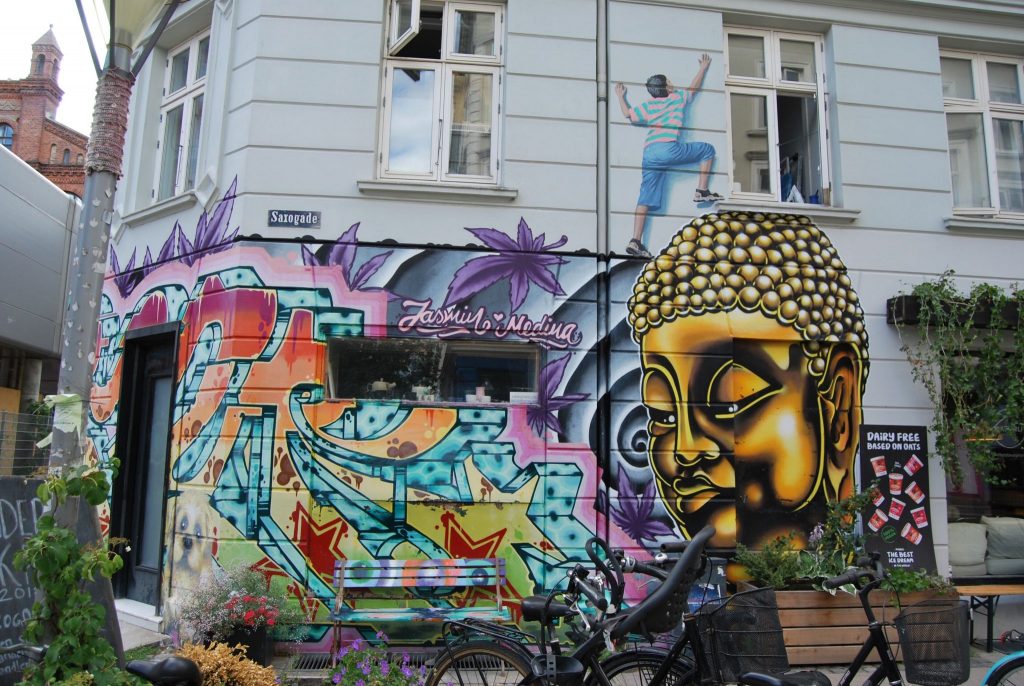 ROA
Roa is a zoo director and artist from Belgium.
His
art helps to see the most common animals in the wild and exotic light, while
they are in the ordinary surrounding.
He
has created a mural of a playful and serious group of mice, squirrels, rabbits
and rats, which refers to the Grimm's fairy tales about the city musicians from
Bremen.
This
mural brings happiness for the local primary school in Vesterbro.
Address: Gasværksvej 34, Kbh V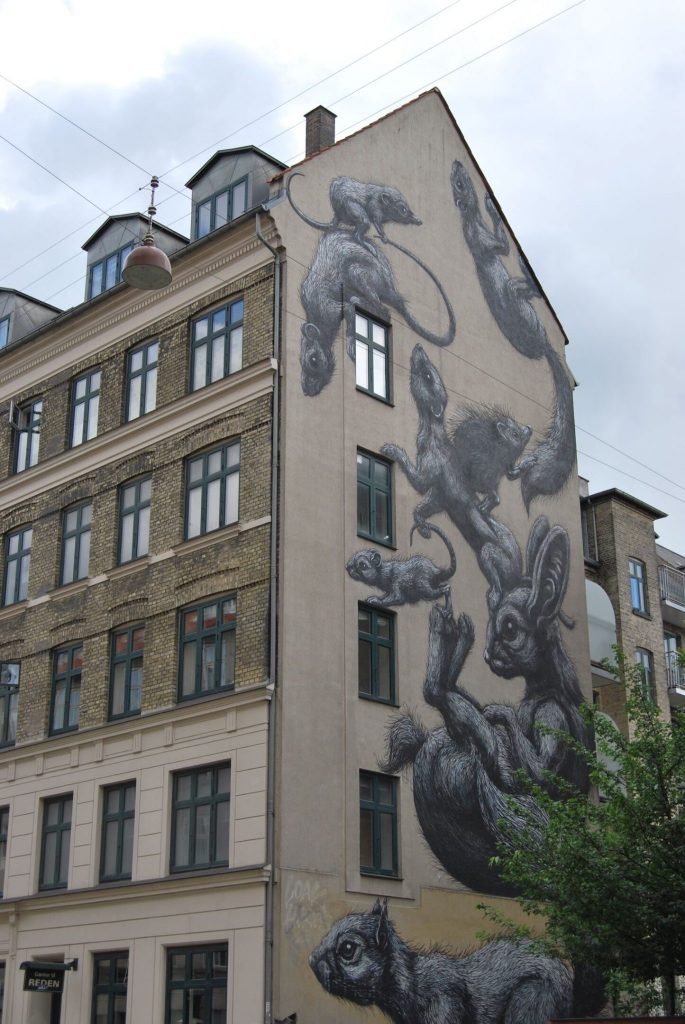 GRAFFITI – Copenhagen 1984-2019 exhibition.
This
exhibition is a photo documentary of Copenhagen's urban environment all the way
from the 80s till today. 
The
photos are from the private graffiti writers' albums. The photos are exhibited
in the raw Øksnehallen setting.
The
photos present a unique insight into the changes that have happened in the
public spaces of Copenhagen. Also, the changes in graffiti styles in
Copenhagen.
Address:
Halvtorvet 11, Kbh V 
(Admission fee: Adult 75 DKK, student 45 DKK, children 0-10 years free).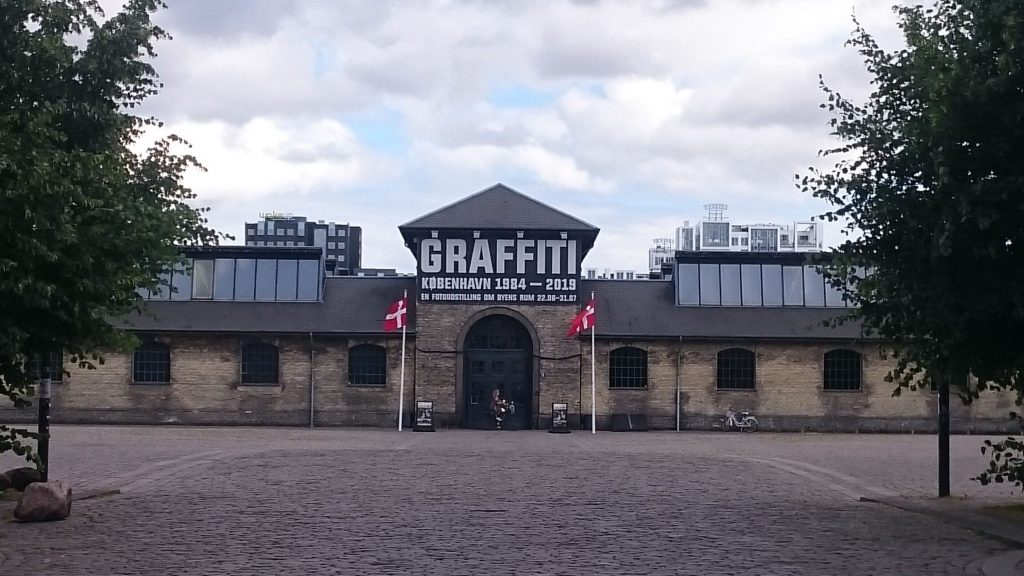 For more street art and graffiti in the cities https://streetartcities.com4