Feel like painting, but there's no events?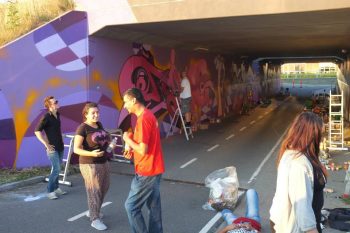 APPLY FOR OUR 40M X 2,4M WALLS OUTSIDE CPH INSTEAD​
The tunnels is a good fit for a large portfolio work or a team-wall when traveling Europe! We got you covered on:
roller paint
private accomodation
limited selection of spray cans from out storage
Kings of the Province jam 2017
Around 400 squaremetres acrossour two main tunnels in Ringsted was covered over the weekend. This video will give you a sneak peak of the area and the walls. 
The artworks usually stays up a year or two, depending on how many events and guests we are hosting.
If you want to make Ringsted a stop on your euro-tour, send us an email with your ideas and the line-up if you're bringing friends. We prioritize artists who can do a full theme-production to cover a whole tunnel side at a time.
 Info@MeetingofStyles.dk